Step by Step Guide to Native Tissue Repairs
00018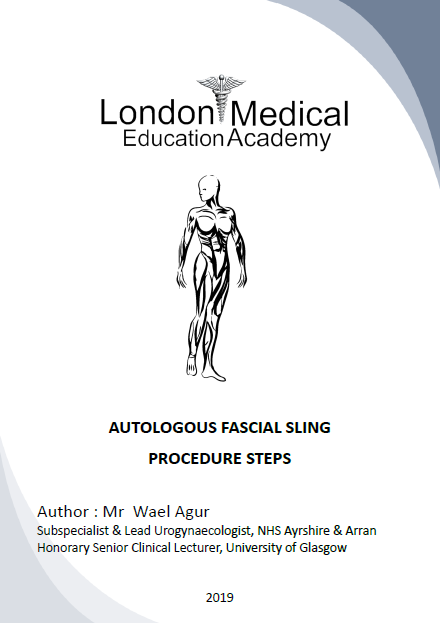 The Step by Step Guide to For Autologous Fascia Sling for incontinence repairs is authored by experienced Native Tissue Repair surgeon Consultant Wael Agur (Course Director for the Native Tissue Repair Course) for our Urogynaecology courses is appreciated by attendees as it serves as a great guide for those who have attended our courses. The document outlines the steps of the procedure in the highest detail.

We have been asked to make it available separately for those who may not have the availability to attend the lab, for religious or ethical reasons.
From the Guide:

Step 4. Graft Harvesting:
Release of subcutaneous fat to expose 1cm width of the rectus sheath. A graft of 6cm in length is harvested by undermining ½ -1 cm of the sheath starting at midline (3cm on each side) and making sure no fat or muscle attached. The harvested anterior rectus sheath graft is 6cm long and ½ - 1 cm wide, tapering to ½ cm at the edge. The procedure could either be completed under vision or the rectus sheath is closed with PDS 0 and the procedure is continued like a mid-urethral mesh tape. Continuous saline drip will keep it moist.
Step 5. Dissecting the retropubic space:
Similar to that of colposuspension but no need to dissect too lateral. Dissect only the back of symphysis pubis until the balloon is felt and only about 2 cm lateral.
Pleas note all text and images are under copyright; this is for personal use only, and can not be shared with others in any shape or format.

The document becomes available to download immediately after payment is made.